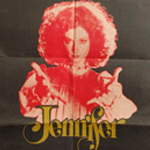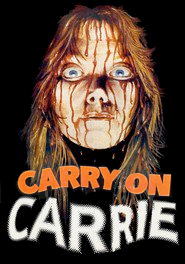 Before we address the other adaptations of CARRIE, let's look at one of the movies its success made possible.
A few years after CARRIE was a hit, producer Steve Krantz whipped up this totally different movie called JENNIFER. Instead of just living in a decrepit house, Jennifer (Lisa Pelikan [LIONHEART, the TV version of TRUE GRIT with Warren Oates]) lives in a decrepit house that's also a pet store. Instead of being raised by a single mother it's a single father (Jeff Corey [SURVIVING THE GAME, the movie version of TRUE GRIT with John Wayne]) and instead of thinking her powers are the Devil's work he thinks it's Jesus. Instead of whatever form of Christianity Margaret White practiced, Jennifer's father raises her as a snake handler. Instead of a sympathetic gym teacher there's a dreamy science teacher (Bert Convy, host and producer of Win Lose or Draw) who is real cool and asks her to call him Jeff. Instead of a public high school where she doesn't know how to fit in it's a boarding school where everyone treats her like shit because they're spoiled rich kids and she's a poor kid on a scholarship. Instead of killing a pig and pouring its blood on her they hang her favorite kitten in her locker, and then say she did it and use it as an excuse to kidnap her.
Totally different. (read the rest of this shit…)
VERN has been reviewing movies since 1999 and is the author of the books SEAGALOGY: A STUDY OF THE ASS-KICKING FILMS OF STEVEN SEAGAL, YIPPEE KI-YAY MOVIEGOER!: WRITINGS ON BRUCE WILLIS, BADASS CINEMA AND OTHER IMPORTANT TOPICS and NIKETOWN: A NOVEL. His horror-action novel WORM ON A HOOK will arrive later this year.