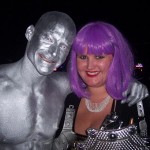 FANTASTIC 4 2: RISE OF THE SILVER SURFER 1
Man, I don't know how this works, but somehow just putting a silver guy in a movie brings me in. When FANTASTIC 4 PART 1 came out I had no interest, but when they started advertising part 2 I thought, oh, who am I fooling? Nobody can resist a silver guy. So I rented part 1 to catch up. And I gotta say, as bad as I pictured that movie being, it was actually alot worse. Definitely in the lower tier of comic book movies, which puts it in the lowest tier of movies overall unless you include immoral material like child porn, snuff, crush videos or TRANSFORMERS.
Basically the first one is the story of four unappealing dorks who get in a space accident that gives them magical powers so they put on shiny blue scuba suits, make bad puns in a big cheesy laboratory set and fight some prick that shoots lightning. The makeup on "The Thing" looks stupid, the digital effects are surprisingly terrible for a big budget movie and any attempt at turning this ridiculous shit into actual drama or excitement is immediately undermined by the constant stream of groan inducing "jokes." (read the rest of this shit…)
VERN has been reviewing movies since 1999 and is the author of the books SEAGALOGY: A STUDY OF THE ASS-KICKING FILMS OF STEVEN SEAGAL, YIPPEE KI-YAY MOVIEGOER!: WRITINGS ON BRUCE WILLIS, BADASS CINEMA AND OTHER IMPORTANT TOPICS and NIKETOWN: A NOVEL. His horror-action novel WORM ON A HOOK will arrive later this year.