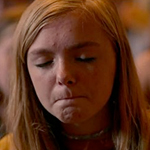 EIGHTH GRADE is a beautifully true high definition close-up on the most awkward of ages. You don't feel like a kid anymore, but the high schoolers you're about to be tossed in with seem like adults, and you haven't even caught up with the kids your own age. If you're Kayla (Elsie Fisher, a voice in the DESPICABLE ME film saga) you pride yourself on knowing how to conquer life – in fact your hobby is creating Youtube videos giving friendly, positive advice – but really you feel like every single other person knows what they're doing and you don't.
The movie isn't in first person, like I'm describing it here, but it's almost that intimate. So much of it stays close on her face, the kids around her a little out of focus. From her terrified expressions you can feel her chest about to implode with tension, but you can also tell that nobody notices. They're off in their own world. They don't even look at her.
For my money this is an improved grade of WELCOME TO THE DOLLHOUSE. It captures the nightmare of social awkwardness without having to exaggerate the ugliness of the world. It's not mean. It's real. Sure, there's cringing, but it's organic cringing, not pushed-to-the-limit cringing like we enjoy in Curb Your Enthusiasm and stuff. The events are mostly mundane – a birthday party where she doesn't fit in, a trip to the mall with older kids – but they feel as heavy and monumental as they would at that age. (read the rest of this shit…)
VERN has been reviewing movies since 1999 and is the author of the books SEAGALOGY: A STUDY OF THE ASS-KICKING FILMS OF STEVEN SEAGAL, YIPPEE KI-YAY MOVIEGOER!: WRITINGS ON BRUCE WILLIS, BADASS CINEMA AND OTHER IMPORTANT TOPICS and NIKETOWN: A NOVEL. His horror-action novel WORM ON A HOOK will arrive later this year.