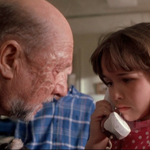 By HALLOWEEN 5: THE REVENGE OF MICHAEL MYERS, it is clear that we've fully transitioned into HALLOWEEN, an ongoing series from producer Moustapha Akkad, as opposed to the creation of John Carpenter. We still have Carpenter's characters of Michael Myers and Dr. Loomis, but we've forgotten all about Laurie and moved on to the story of her daughter Jamie (who it's hard to associate with Laurie, since we never saw them together). This one is much less of a rehash of the original than part 4, and it digs into the series tradition of really fuckin stretchin it in getting themselves out of the corner they painted themselves into last time. They actually went into production before part 4 came out so they could have it done the next year, yet it seems like separate people trying to figure out how the fuck to follow up a part 4 ending they had no control over. That gives it kind of an adventure serial cliffhanger type of feel, I guess. How will The Shape get out of this mess? Find out next time!
In part 4 they had to undo Loomis (Donald Pleasance) having blown himself and Michael sky high in part 2. They handled that by just having both of them alive but burnt. This time they have to undo part 4's ending, where Michael was shot to death by cops and collapsed into an abandoned mine, but his evil spirit and/or curse was passed on to his little niece Jamie Lloyd, and she stabbed her step mom in the tradition of little Michael killing his sister in the opening of part 1. (read the rest of this shit…)
VERN has been reviewing movies since 1999 and is the author of the books SEAGALOGY: A STUDY OF THE ASS-KICKING FILMS OF STEVEN SEAGAL, YIPPEE KI-YAY MOVIEGOER!: WRITINGS ON BRUCE WILLIS, BADASS CINEMA AND OTHER IMPORTANT TOPICS and NIKETOWN: A NOVEL. His horror-action novel WORM ON A HOOK will arrive later this year.