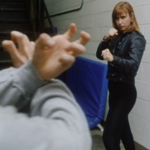 After recycling his Richard Harrison footage across 25 ninja movies (see NINJA KILL), Chang Cheh assistant turned "Ed Wood of Hong Kong" Godfrey Ho made at least one movie that was shitty in an entertaining way. The proof is the English language, filmed in America UNDEFEATABLE (1994), sort of a poor man's BLACKBELT, if such a thing is possible. Like that fun Roger Corman produced Don "The Dragon" Wilson vehicle, it combines martial arts with the slasher movie cliche of a deranged serial killer obsessed with his mommy. But this one has Cynthia Rothrock (NO RETREAT NO SURRENDER 2).
The movie itself seems to think the star is some guy named John Miller, who was also in the Ho-directed Rothrock vehicle HONOR AND GLORY the same year (hmmm…) and then was apparently on 20 episodes of Homicide: Life On the Street, but uncredited, so I think he's just a background guy at the department. Here he's a supercop introduced with the traditional off-duty interruption of a convenience store robbery, or "just a couple of punks giving me a warmup" as he calls it, before breaking up an organized street fight and confiscating the winnings. He's actually kind of a stick in the mud hassling fighters. It wasn't until 35 minutes in when they showed him practicing with a staff that I realized he was a martial artist too.
VERN has been reviewing movies since 1999 and is the author of the books SEAGALOGY: A STUDY OF THE ASS-KICKING FILMS OF STEVEN SEAGAL, YIPPEE KI-YAY MOVIEGOER!: WRITINGS ON BRUCE WILLIS, BADASS CINEMA AND OTHER IMPORTANT TOPICS and NIKETOWN: A NOVEL. His horror-action novel WORM ON A HOOK will arrive later this year.