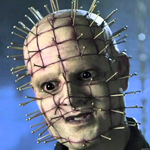 HELLRAISER: REVELATIONS, the final nail in the head of Pinhead, has the audacity to open as a fucking found footage movie. Two young bros named Nico (Jay Gillespie, ANDROID COP) and Steven (Nick Eversman, VAMPIRES SUCK and this week's episode of Agents of SHIELD) make a video of their road trip from L.A. to Tijuana, (which they think is hilarious to say in a fake Mexican accent). Nico in particular is an obnoxious dick begging to be punched in the face and/or torn apart by hooks, very reminiscent of the guys that get killed in the opening of TEXAS CHAINSAW MASSACRE 2. He smirks with pride as he blows your fuckin mind by talking excitedly about donkey shows and hookers. Get it.
Jump cut to Nico shirtless on the floor in a square of candles solving the famous Lament Configuration puzzle box. And then Pinhead is there asking for the box. Or, wait… who is that guy? If you've seen BLOODLINE you remember it because Pinhead was in space, if you've seen REVELATIONS you remember it because they dressed some other dude up as Pinhead. (read the rest of this shit…)
VERN has been reviewing movies since 1999 and is the author of the books SEAGALOGY: A STUDY OF THE ASS-KICKING FILMS OF STEVEN SEAGAL, YIPPEE KI-YAY MOVIEGOER!: WRITINGS ON BRUCE WILLIS, BADASS CINEMA AND OTHER IMPORTANT TOPICS and NIKETOWN: A NOVEL. His horror-action novel WORM ON A HOOK will arrive later this year.