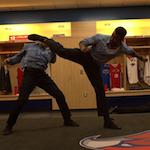 WELCOME TO SUDDEN DEATH is Michael Jai White's new… addition to the SUDDEN DEATH franchise? I had heard it was officially a sequel to the 1995 Jean-Claude Van Damme DIE-HARD-alike directed by Peter Hyams, but I didn't notice any continuity connecting them. It's just a rehash of the same premise. So you could call it a remake, but since it doesn't use any of the same names I suppose it is in the spirit of rehash DTV sequels like HOLLOW MAN 2, THE MARINE 2, WILD THINGS 2, THE BUTTERFLY EFFECT 2, KINDERGARTEN COP 2 and I'LL ALWAYS KNOW WHAT YOU DID LAST SUMMER.
White plays Jesse Freeman, ex-special-ops guy who has a new job as a stadium security job after rehabilitating from some shrapnel he got after escaping torture and kung-fu-ing insurgents overseas. His wife (Sagine Sémajuste) thinks he's away from the family too much, so he brings his worshipful daughter Mara (Nakai Takawira, Young Simone Biles, THE SIMONE BILES STORY: COURAGE TO SOAR) and unimpressed son Ryan (Lyric Justice) with him when he works the opening game for the Phoenix Falcons. You know, of the National Basketball League. (read the rest of this shit…)
VERN has a new action-horror novel out called WORM ON A HOOK! He has been reviewing movies since 1999 and is the author of the film criticism books Seagalogy: A Study of the Ass-Kicking Films of Steven Seagal and Yippee Ki-Yay Moviegoer!: Writings on Bruce Willis, Badass Cinema and Other Important Topics as well as the crime novel Niketown.