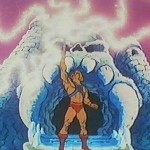 You know, MUNICH is almost the movie I was hoping SYRIANA would be. SYRIANA has alot to say about the complicated way the world works, but it doesn't get you excited about it. You're probaly not gonna be sitting on the edge of your seat. More likely you'll be scratching your chin saying, "Interesting, interesting." I'd rather see a movie that can be complex and political without sacrificing in the awesome department. A good balance of substance and badass. And that's what this is.
Okay so maybe MUNICH isn't as true to life as SYRIANA (in fact, some people think the real guy it's based on made up the whole story and never worked for Mossad) but it sure is a more entertaining movie. Eric Bana (winner of the secret, recently declassified 2001 lead badass outlaw award for CHOPPER) plays Avner, a small time Israeli agent personally chosen by the prime minister to lead a team of assassins to kill 11 people believed to be involved in the planning of the massacre of the Israeli athletes at the Munich Olympics. (read the rest of this shit…)
VERN has been reviewing movies since 1999 and is the author of the books SEAGALOGY: A STUDY OF THE ASS-KICKING FILMS OF STEVEN SEAGAL, YIPPEE KI-YAY MOVIEGOER!: WRITINGS ON BRUCE WILLIS, BADASS CINEMA AND OTHER IMPORTANT TOPICS and NIKETOWN: A NOVEL. His horror-action novel WORM ON A HOOK will arrive later this year.