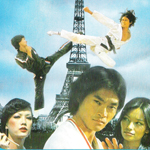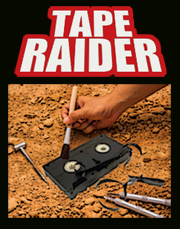 "I don't get it. Why do we have to fight?"
AVENGING NINJA is a movie with no ninjas, and no vengeance. And I don't think it's a metaphor, either. It's just the marketable American video title for a Taiwanese/Hong Kong production that also goes by the more accurate title ZEN KWUN DO STRIKES PARIS.
The movie, which is produced by "John Liu's (H.K.) Film Corp.", stars John Liu, a Taiwanese martial artist who was in the SECRET RIVALS trilogy and INVINCIBLE ARMOUR, or "successor to the immortal Bruce Lee legacy," as the oversized VHS box calls him. And he directs, writes and produces. Also he's playing himself, John Liu, movie actor and founder of the Zwen Kwan Do fighting system, which he pits against various champions of different disciplines and nationalities. The credits list the championships of the five top-billed actors ("JOHN LIU 1964, 1967 World Karate Champion"). Also there are three names under the category "Top French Movies & TV Stars," and somebody named "Brigitte Mannequin." I'm not sure who that is, but I like her.
As the movie begins it's in the news that John Liu, the disgraced martial arts teacher now working in the Hong Kong film industry, has been summoned to Paris to investigate the kidnapping of his father, a "well known American aerospace scientist." He's in no hurry though. He's still filming a movie, and is told to slow down his moves so the camera can get them, something they used to say happened to Jet Li. But maybe they said that about everybody. (read the rest of this shit…)
VERN has been reviewing movies since 1999 and is the author of the books SEAGALOGY: A STUDY OF THE ASS-KICKING FILMS OF STEVEN SEAGAL, YIPPEE KI-YAY MOVIEGOER!: WRITINGS ON BRUCE WILLIS, BADASS CINEMA AND OTHER IMPORTANT TOPICS and NIKETOWN: A NOVEL. His horror-action novel WORM ON A HOOK will arrive later this year.