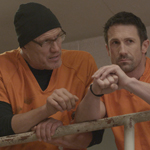 You and I, obviously we rented RIOT because Dolph Lundgren is on the cover. But we will quickly learn that this is a Matthew Reese Films presentation starring Matthew Reese as Jack Stone.
As you could guess from his name, Jack Stone was an amazingly awesome and legendary cop before a bank robbery and killing of a fellow officer (seen in fragmented flashbacks) put him behind bars. The guards (who wear full body armor and goalie masks) taunt him and the inmates threaten him, except for one tall shy guy with a mop. That's William, played by Dolph. He hunches over, winces, mumbles, acts scared. But he immediately looks out for Jack. If Jack gets jumped he'll leap in and beat up a guy with a mop handle if necessary.
Actually there's one other guy who likes Jack, in a part I didn't understand. When Jack's cellmate (ex-football player Seante Williams) first finds him in the cell he starts threatening him, but then recognizes him and smiles. "Jack, right?" He introduces himself as Silva and gives him his choice of top or bottom bunk! Toward the end of the movie a giant muscular blond, like a new model of Dolph, who has been set up as a major threat, comes to kill Jack, and Silva flies in with a Superman punch and takes care of the guy for him.
I don't know, maybe Silva's supposed to be some undercover guy planted there to help him? Might as well be, it seems like everybody else in here is. Jack purposely pleaded guilty to get into the prison where his wife's killer is. William, we find out, is an FBI agent who has been inside for 6 months to look into corruption at the prison (talk about a shitty gig!) and he also has a partner in there who is also undercover. (read the rest of this shit…)
VERN has been reviewing movies since 1999 and is the author of the books SEAGALOGY: A STUDY OF THE ASS-KICKING FILMS OF STEVEN SEAGAL, YIPPEE KI-YAY MOVIEGOER!: WRITINGS ON BRUCE WILLIS, BADASS CINEMA AND OTHER IMPORTANT TOPICS and NIKETOWN: A NOVEL. His horror-action novel WORM ON A HOOK will arrive later this year.