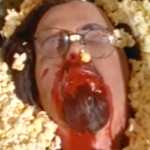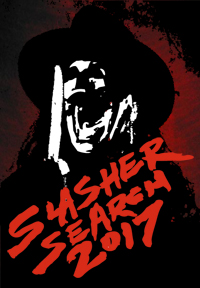 Okay, I'm not naive, I know a no-budget regional slasher nobody's ever heard of from the advanced year of 2001 was a long, long, loooong shot for kicking off Slasher Search 2017, this year's quest to find a great obscure slasher movie I've never seen before. But I don't know, man. The title GENERATION AX always intrigued me. That was a pretty good exploitation title for its time, or at least for several years before its time. The opening credits spell it out "GENERATION aX," as if we might not get the play on "Generation X" without typographic hints. In that case it's a misnomer, because this is a movie about 17 year olds in a year when the youngest Gen Xers were 25. In the movie's defense, though, the entire cast looks closer to 30.
The story opens with Todd (Brian Kelly, "Jacobi Boy #2," MANHUNTER), sort of a young Shea Whigham type, in a lone containment cell being taunted by a completely-by-himself cop or sheriff or whatever (Robert Steinmeyer?) who complains about having to fill out reports and helpfully talks about "those teens" and "those cheerleaders" Todd is accused of killing. Of course Todd escapes and the story jumps back two weeks. This tension-by-telling-us-the-future is maybe the closest thing to a successfully executed technique in the movie. If we were invested in the character Leslie (Jennifer Peluso, coach for The Firm: Total Body series of workout videos) it would be suspenseful as it goes back and forth about whether or not she'll make the cheerleading team. (read the rest of this shit…)
VERN has been reviewing movies since 1999 and is the author of the books SEAGALOGY: A STUDY OF THE ASS-KICKING FILMS OF STEVEN SEAGAL, YIPPEE KI-YAY MOVIEGOER!: WRITINGS ON BRUCE WILLIS, BADASS CINEMA AND OTHER IMPORTANT TOPICS and NIKETOWN: A NOVEL. His horror-action novel WORM ON A HOOK will arrive later this year.