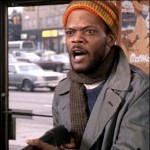 Some people might say, just because Christina Ricci spends a good third of BLACK SNAKE MOAN wearing only panties and a half shirt, chained up like a dog to control her bestial urge to fuck anything with a dick, that it's degrading to women. Well, okay, if I put it that way. But as cool as Samuel L. Jackson's backsliding bluesman Lazarus is, it's Ricci's coughing town slut Rae that you sympathize with most. The weird thing is this ends up being a sweet movie, a cute movie. Like a really subdued KILL BILL, BLACK SNAKE takes ridiculous notions that don't have to make sense in an exploitation* picture (a man chaining up a young girl to cure her nymphomania, her forgiving him for it) but then treats the characters' emotions so seriously that I actually start to care about them.
I'm not gonna complain about seeing Ricci half naked or the lurid pulpy advertising campaign revolving around Lazarus having her on a chain like a pet, or something worse. But honestly, swear to God, cross my eye with a needle, etc., I was excited for this movie because it's from the writer-director of HUSTLE & FLOW. If you have to compare the two I'd say this one isn't quite as compelling, although some would disagree due to the panties and boobs. (read the rest of this shit…)
VERN has been reviewing movies since 1999 and is the author of the books SEAGALOGY: A STUDY OF THE ASS-KICKING FILMS OF STEVEN SEAGAL, YIPPEE KI-YAY MOVIEGOER!: WRITINGS ON BRUCE WILLIS, BADASS CINEMA AND OTHER IMPORTANT TOPICS and NIKETOWN: A NOVEL. His horror-action novel WORM ON A HOOK will arrive later this year.