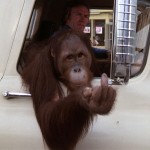 Clint Eastwood is Philo Beddoe in…
EVERY WHICH WAY BUT LOOSE
Don't you hate it when you and your orangutan are driving somewhere in your pickup truck minding your own business and some fuckin biker assholes pull up and start harassing you about there being an ape? Why can't a man and an ape travel together as equals without getting stared at and made fun of? And also, does someone who wears a viking helmet really have a leg to stand on in making fun of your choice of animal companion? And no wonder those morons put swastikas on everything, going around harassing different races and species.
Well when and if this happens to you you might get fed up and try to chase those fuckers down, possibly steal a street sweeper and tail them until they hop a train, at which point you will at least get to steal their bikes. This is a worthwhile option and one that works out for trucker/mechanic/bareknuckle brawler Philo Beddoe in this movie, but it also begins a war that leads to many fights and the destruction of more than a dozen motorcycles. So just know what you're getting into here is all I'm saying. (read the rest of this shit…)
VERN has been reviewing movies since 1999 and is the author of the books SEAGALOGY: A STUDY OF THE ASS-KICKING FILMS OF STEVEN SEAGAL, YIPPEE KI-YAY MOVIEGOER!: WRITINGS ON BRUCE WILLIS, BADASS CINEMA AND OTHER IMPORTANT TOPICS and NIKETOWN: A NOVEL. His horror-action novel WORM ON A HOOK will arrive later this year.