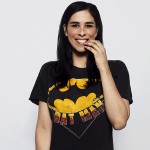 Ahoy, squirts! Quint here to present Vern, who is taking on Sarah Silverman in Jesus Is Magic and Spike Lee's SUCKER FREE CITY in the way only Vern can. No more intro is needed. Have at it!!!
Sarah Silverman's JESUS IS MAGIC vs. Spike Lee's SUCKER FREE CITY
Howdy boys. I got basically two reviews for you here. One is a standup movie by some female comedian, or comedienne, that readers of this sight are familiar with from jerking off. Er, I mean, from Comedy Central. The other one is a Spike Lee Joint made for Showtime as a pilot for a TV series but then turned into a full blown straight to cable feature. So it's not a big screen movie but yes, it is still officially classified as a 'Joint' according to the box art. Anyway, I'm not sure what connection there is between these two other than that I watched them both yesterday. But that's really the important thing here, isn't it? Me. (read the rest of this shit…)
VERN has been reviewing movies since 1999 and is the author of the books SEAGALOGY: A STUDY OF THE ASS-KICKING FILMS OF STEVEN SEAGAL, YIPPEE KI-YAY MOVIEGOER!: WRITINGS ON BRUCE WILLIS, BADASS CINEMA AND OTHER IMPORTANT TOPICS and NIKETOWN: A NOVEL. His horror-action novel WORM ON A HOOK will arrive later this year.