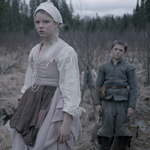 a.k.a. "The VVitch: A New England Folk Tale," as it said on the actual movie
Our beliefs on horror movies are very dear and personal to us. We were indoctrinated into them as children, performing rituals both in groups and in private. Though horror fans often think of themselves as one big group, different factions draw from different traditions. Some are strictly isolationist, while many draw from the Italians, or the Japanese, or even the French. Some have an Amish-like devotion to a specific bygone era, for example the Orthodox '80s Slashists not only refuse to acknowledge the reformations of the SCREAM era, they don't even believe in Blu-Ray.
There are many dogmas to adhere to or ignore. Some oppose jump scares, others welcome them to the flock. Many exalt franchise horror, but some consider sequeling a sin. Most oppose new remakes, but who doesn't at least like THE THING? There is a wide spectrum, from those who seek the gore and transgression of CANNIBAL HOLOCAUST and GUINEA PIG to those who believe the best scares are always left to the imagination (of the viewer, not the filmmaker). In the middle are many who spent a few years fretting about "torture porn" and its hold on the genre. Or PG-13 teen horror. Or studio horror with big name actors. Or whatever.
Since the '80s, horror has been both a highly specialized world for fangorian aficionados and a go-to market for squeezing quick bucks out of undiscerning young people. Therefore it should be no surprise that movies like THE WITCH that take a mood-heavy, narrative-light arthouse type of approach can be praised to the sky by critics and horror media, then called "the worst movie ever" by normal people who expect something different when they go to a horror movie. That they will get mad at the people who said it was good, and accuse them of thinking they're stupid, which will then make them think they're stupid. Lots of finger pointing. We could be moving toward burning and drowning. (read the rest of this shit…)
VERN has been reviewing movies since 1999 and is the author of the books SEAGALOGY: A STUDY OF THE ASS-KICKING FILMS OF STEVEN SEAGAL, YIPPEE KI-YAY MOVIEGOER!: WRITINGS ON BRUCE WILLIS, BADASS CINEMA AND OTHER IMPORTANT TOPICS and NIKETOWN: A NOVEL. His horror-action novel WORM ON A HOOK will arrive later this year.