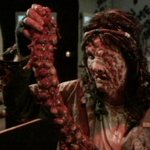 PLEDGE NIGHT, that could be a good slasher movie, right? It's got "Night" in the title, that's scary. Implies a horrific massacre that occurred on one specific date in history. And after dark. The "Pledge" part means it takes place at a college, so it's the young people whose blood usually fuels the slashers, but not too young. Kind of adults, in a way. I don't know.
This was the first one by director Paul Ziller. Alot of the guys who directed these types of slashers have a handful of other IMDb credits at most. This guy went on to do BLOODFIST IV, BACK IN ACTION, SHOOTFIGHTER II among other action and thriller type business. In the 2000s he's become more of a SyFy type with SNAKEHEAD TERROR, SWARMED, BEYOND LOCH NESS, YETI: CURSE OF THE SNOW DEMON, STONEHENGE APOCALYPSE… He's still at it, having recently done a TV remake of THE PHILADELPHIA EXPERIMENT. The script is by Joyce Snider, whose other four IMDb credits are all pornos: PUBLIC AFFAIRS and RAW TALENT I-III. (read the rest of this shit…)
VERN has been reviewing movies since 1999 and is the author of the books SEAGALOGY: A STUDY OF THE ASS-KICKING FILMS OF STEVEN SEAGAL, YIPPEE KI-YAY MOVIEGOER!: WRITINGS ON BRUCE WILLIS, BADASS CINEMA AND OTHER IMPORTANT TOPICS and NIKETOWN: A NOVEL. His horror-action novel WORM ON A HOOK will arrive later this year.