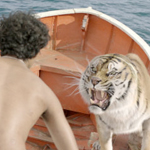 LIFE OF PI is the story of an Indian guy (Irrfan Khan) who for some reason has a white author guy (Rafe Spall) he doesn't know come over to his house to interview him about his life. It's kind of unclear what the situation is here, but apparently the writer guy is not in the book the movie is based on, so I guess this is a dramatization of what the making of the book would've been like if it was a true story that a a real guy told to the author instead of something that he made up and wrote using his imagination and talents. I don't get it, but it kind of reminds me of BIG FISH. Sophomore year imagination class. That's at least a huge step forward for screenwriter David Magee, considering he wrote FINDING NEVERLAND.
[UPDATE: Okay, never mind, I'm told the writer is in the book. It would be cooler if in the book it was Ang Lee that comes over to his house.]
(read the rest of this shit…)
VERN has been reviewing movies since 1999 and is the author of the books SEAGALOGY: A STUDY OF THE ASS-KICKING FILMS OF STEVEN SEAGAL, YIPPEE KI-YAY MOVIEGOER!: WRITINGS ON BRUCE WILLIS, BADASS CINEMA AND OTHER IMPORTANT TOPICS and NIKETOWN: A NOVEL. His horror-action novel WORM ON A HOOK will arrive later this year.