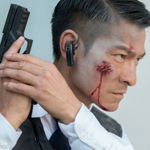 FIRESTORM, the Hong Kong movie from 2013, is unfortunately not a remake of the 1998 firefighter action vehicle starring Howie Long. But it's a good movie. Andy Lau (INFERNAL AFFAIRS, HOUSE OF FLYING DAGGERS, THE GREAT WALL) plays Inspector Lui, a by-the-book cop trying to catch a gang of brazen thieves. He's there when they literally lift an armored car with a crane, and he hopes to be there (but more prepared) the next time they strike.
This is not the Hong Kong I know from other movies, with all the bustle and boats and steam coming off of outdoor markets. This is clean, professional downtown Hong Kong. Tall buildings, office clothes. That robbery happens in broad daylight, the gunmen wearing scary fencing type masks. It's got a realistic feel but it's this outlandish action spectacle, like HEAT meets more of a DIE HARD WITH A VENGEANCE world. (read the rest of this shit…)
VERN has been reviewing movies since 1999 and is the author of the books SEAGALOGY: A STUDY OF THE ASS-KICKING FILMS OF STEVEN SEAGAL, YIPPEE KI-YAY MOVIEGOER!: WRITINGS ON BRUCE WILLIS, BADASS CINEMA AND OTHER IMPORTANT TOPICS and NIKETOWN: A NOVEL. His horror-action novel WORM ON A HOOK will arrive later this year.