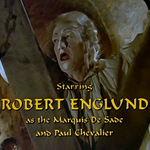 TOBE HOOPER'S NIGHT TERRORS (or THE MARQUIS DE SADE'S NIGHT TERRORS according to the menu of the German DVD I watched – it's VHS-only in the States) is a lesser known one from Hooper's disreputable '90s period. This was 1993, when he was doing alot of TV, but theatrical-movie-wise it came between SPONTANEOUS COMBUSTION and THE MANGLER.
I'd actually never seen this one before and I'm glad I waited until now because I can at least respect its place in Hooper's filmography and its rejection of normal horror ideas. Can't really say I like it, though.
What is the premise? I've seen it, so I have a good guess. It's about Genie (yes, that's how it's spelled), a young American woman played by Zoe Trilling (DR. GIGGLES, NIGHT OF THE DEMONS 2) who goes to Alexandria, Egypt to stay with her archaeologist father Dr. Matteson (William Finley, THE PHANTOM OF THE PARADISE, EATEN ALIVE, THE FUNHOUSE), meets a few people, experiments with her sexual boundaries and then gets chained up by some sadists. (read the rest of this shit…)
VERN has been reviewing movies since 1999 and is the author of the books SEAGALOGY: A STUDY OF THE ASS-KICKING FILMS OF STEVEN SEAGAL, YIPPEE KI-YAY MOVIEGOER!: WRITINGS ON BRUCE WILLIS, BADASS CINEMA AND OTHER IMPORTANT TOPICS and NIKETOWN: A NOVEL. His horror-action novel WORM ON A HOOK will arrive later this year.