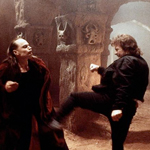 "Either this guy is nuttier than a Snickers, or there is some real heavy shit goin down."
I've had this idea for years that one Halloween I should try to honor my two most covered genres by trying to review a bunch of action/horror crossovers. I knew Chuck Norris had done one, so HELLBOUND was at the top of my list. Unfortunately if this is any indication this is not gonna be one of my more worthwhile expeditions.
Our story begins in 1186 AD when Richard the Lionheart (David Robb, who in my opinion was cast in Downton Abbey based entirely on having this one his resume) battles an evil sorcerer called Prosatanos (Christopher Neame, LUST FOR A VAMPIRE, SUBURBAN COMMANDO) and locks him in a tomb using magic daggers. Then it continues in 1951 when some bandits who might've been professional acquaintances of Indiana Jones discover the tomb and think it would be a good idea to steal the magic daggers, releasing a force of pure evil that will, you know, cause trouble in 40-some years after he gets all the broken pieces of his shattered Magic Scepter Thing of Evil. Now he wants to conquer the world and presumably plunge it into that "1,000 Years of Darkness" Chuck Norris's wife warned about in their anti-Obama video.
(read the rest of this shit…)
VERN has been reviewing movies since 1999 and is the author of the books SEAGALOGY: A STUDY OF THE ASS-KICKING FILMS OF STEVEN SEAGAL, YIPPEE KI-YAY MOVIEGOER!: WRITINGS ON BRUCE WILLIS, BADASS CINEMA AND OTHER IMPORTANT TOPICS and NIKETOWN: A NOVEL. His horror-action novel WORM ON A HOOK will arrive later this year.