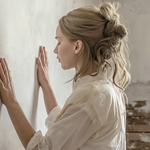 mother! is the new movie! from Darren Aranofsky (THE WRESTLER) and it's marketed as horror, because… I mean I don't know what else you would call it either. It is in the business of exploiting our fears, but it's not exactly a genre story, unless you count the occasional bloody wound festering in a wooden floor. Mostly it's a heightened, surreal portrait of a marriage. And a house.
Jennifer Lawrence (AMERICAN HUSTLE) is the nameless female lead (credited as "mother"), married to an older man (Javier Bardem, PERDITA DURANGO, credited as "Him") who's a famous poet suffering from writer's block while she looks after him and painstakingly rebuilds his house after it was destroyed in a fire. When some random doctor dude (Ed Harris, knightriders!) shows up at their door, the husband invites him to stay without taking her feelings into account, and this is the breeze that will become a tornado of escalation intrusions, insecurities and violations. By the end she'll be (spoiler!) caught in the middle of huge riots and uprisings even though she will never leave the house. (read the rest of this shit…)
VERN has a new action-horror novel out called WORM ON A HOOK! He has been reviewing movies since 1999 and is the author of the film criticism books Seagalogy: A Study of the Ass-Kicking Films of Steven Seagal and Yippee Ki-Yay Moviegoer!: Writings on Bruce Willis, Badass Cinema and Other Important Topics as well as the crime novel Niketown.