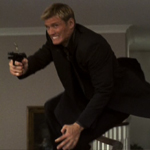 "Okay, I understand that, but Jack you need to realize that your sunglasses are the only protection you have from all the white out there."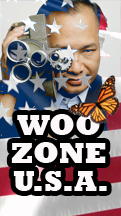 It wasn't part of the original plan, but as I was re-watching the American John Woo movies I realized I had to revisit this 1998 USA Networks TV movie (and unfulfilled backdoor pilot), even though I did an okay job reviewing it long ago. I've recently had good luck recommending it to a couple people who never heard of it, but I hadn't seen it myself in 11 years. Fortunately this thing (shot right after FACE/OFF) holds up as an absurd and entertaining Dolph Lundgren vehicle that transcends its cheapo format.
Dolph plays Jack Devlin, a world class bodyguard who seems to work out of Reno. In the opening he agrees to a favor for an old friend who owns a casino and needs him to protect his little girl Casey (Padraigin Murphy) from the mob. She calls him "Uncle Jack," which I took literally this time, but my research tells me that they're not actually related.
It goes down kind like in TAKEN, where the kids get to Europe and are immediately kidnapped. Here gunmen arrive about 30 seconds after Jack walks into the house with Casey. He's checking the rooms upstairs when they come in. (read the rest of this shit…)