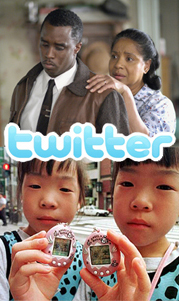 Well this new "blog" format is working out real good. I don't think I'm gonna start catching up with all the 21st century technologies, for example I still don't have a cellular phone device or those shoes with the wheels in them. But everywhere I go I hear about this "twitter" they got now. Moriarty writes in his column about how Harry Twittered him something or other, Harry writes in his column about what he was Twittering during the movie because it was so scary, Devin Feraci on Chud is mad because some other douchebag used his twittering during Crank 2 and also he had to cancel his tweeter for Even Rachel Wood because he was disappointed in the quality of her twitterings, or whatever.
You would think it would only be internet people but it's on TV too, on Larry King and Oprah. That is one thing they didn't cover in the movie "Notorious" is how much Puffy goes around on TV talking about the "twitter". Anyway I guess this is what you're supposed to do now so I'm gonna test it out today, you go to http://twitter.com/outlawvern to read it I believe.
VERN has been reviewing movies since 1999 and is the author of the books SEAGALOGY: A STUDY OF THE ASS-KICKING FILMS OF STEVEN SEAGAL, YIPPEE KI-YAY MOVIEGOER!: WRITINGS ON BRUCE WILLIS, BADASS CINEMA AND OTHER IMPORTANT TOPICS and NIKETOWN: A NOVEL. His horror-action novel WORM ON A HOOK will arrive later this year.