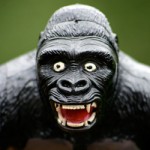 SPOILER ALERT !!
Hi, everyone. "Moriarty" here with some Rumblings From The Lab…
Okay, so it's not the first one ever. Or even in the first hundred at this point. But it's before mine, and it's by Vern, so there's two things it's got going for it. Check this out:
What's up fellas –
I heard some shit about your butts were numb or something like that. Sorry to hear about that I hope you get well soon.
Anyway here's the deal. I saw KING KONG. Not sure if you know about this one but it is a remake of an older picture from '33 or so. This version is by Pete Jackson who won an Oscar, etc. You LORD OF THE RINGS fans will know who I'm talking about. If not there is always the internet. I'm not sure if they have IMDB translated into elfish, but I'm sure you can find the information somewhere or other. (read the rest of this shit…)