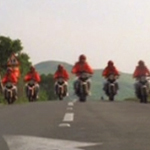 You know who had a hell of a studio? Those Shaw Brothers. As far as a company that develops a formula and evolves an artform into a recognizable "brand," those guys were tops. Within their voluminous catalog are hundreds of period martial arts films, including some of the best ever made, THE 36TH CHAMBER OF SHAOLIN and THE 8 DIAGRAM POLE FIGHTER being my favorites of the small percentage I've seen. I'm sure I'll be watching these for the rest of my life and never see all of the good ones or get tired of their approach.
But it's still a special treat, an exotic delicacy, a rare limited edition collectors item when you see one that breaks out of the usual template. For example I love SUPER INFRA-MAN, their version of a kaiju movie. MERCENARIES FROM HONG KONG – the third film directed by Wong Jing, who recently did CHASING THE DRAGON with Donnie Yen – isn't as unique as that, but it's a beautiful thing: the talents of the Shaw Studios stunt teams and choreographers applied to a contemporary '80s story with guns, grenades and motor vehicles. It came out in 1982, same year as FIRST BLOOD, but seems to predict that post-RAMBO-2 period with its Vietnam vets putting the team back together and returning to the jungle to fight drug lords. I wouldn't say it's as good as Sammo Hung's amazing EASTERN CONDORS, but it's a similar vibe of seeing tropes we love from American action being elaborated upon using techniques unique to Hong Kong cinema. (read the rest of this shit…)
VERN has been reviewing movies since 1999 and is the author of the books SEAGALOGY: A STUDY OF THE ASS-KICKING FILMS OF STEVEN SEAGAL, YIPPEE KI-YAY MOVIEGOER!: WRITINGS ON BRUCE WILLIS, BADASS CINEMA AND OTHER IMPORTANT TOPICS and NIKETOWN: A NOVEL. His horror-action novel WORM ON A HOOK will arrive later this year.