Archive for the 'Blog Post (short for weblog)' Category
Wednesday, June 15th, 2016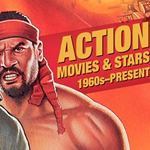 6/22 UPDATE: I am hearing that unfortunately Craig Baxley and Cynthia Rothrock will not be able to attend. However Don "The Dragon" Wilson will.
If you haven't heard yet, I (Vern) am emerging from my spiderhole again for my second ever public appearance, a book signing at Dark Delicacies in Burbank at 2 pm on Sunday, June 26th. This time it's not all about me (or Seagal) though, I'm there to support my friend david j. moore and his gigantic new action movie compendium THE GOOD THE TOUGH & THE DEADLY: Action Movies & Stars 1960s – Present, which I made a very small and humble contribution to.
But that's not all! I am told there will be a whole bunch of icons from the type of b-action movies we love in attendance as well. Like david's post-apocalyptic movie book WORLD GONE WILD, this one has over 1,000 capsule reviews (five by me, I believe, which is how I got into this mess) and david's interviews with a who's who of action stars, directors, writers, stuntmen, etc. Some of them will be there with us to sign the book. INCLUDING MR. CRAIG R. BAXLEY, DIRECTOR OF SOME OF MY VERY FAVORITE MOVIES.
Here's the full list via david: (read the rest of this shit…)