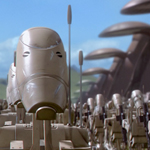 Hey everybody,
Sorry I've been out of commission since Christmas. I didn't intend to take a vacation, but some bots got stuck inside the datas or whatever (don't know all the technical jargon) and totally crashed the sight. I guess somebody was mad at my dangerous message about the Star Wars prequels being interesting or something, I don't know. It's been getting worse all month and suddenly my sight was totally dead for days. Luckily Chris is on the case (please thank him) and it seemed like it was working yesterday and still this morning, so I was already to go and I wrote this and then as I was finishing up it was back to 503 Service Unavailable land.
But if you are reading this then apparently you are reading this, and that's good. I thought I would do a year in review and link back to some of my favorite things on outlawvern.com from this last year.
First, a toast to 2016:
Goodbye and good riddance, 2016, you cruel and treacherous sonofabitch. You genius-killing, hope-destroying, progress-devouring monster. You ignorant, ought-to-fucking-know-better-you're-an-adult, bullshit-Facebook-post-believing, perfectly-willing-to-enable-open-racist-oppression-and-claim-it's-just-economic-anxiety stooge of a year. You injured us, you tortured us, you brought shame on us, and then made fun of us for it. Now you are over and it's worse than the fucking Comedy Central Roast of Chevy Chase – not one sympathetic soul will step forward to defend you. (read the rest of this shit…)
VERN has been reviewing movies since 1999 and is the author of the books SEAGALOGY: A STUDY OF THE ASS-KICKING FILMS OF STEVEN SEAGAL, YIPPEE KI-YAY MOVIEGOER!: WRITINGS ON BRUCE WILLIS, BADASS CINEMA AND OTHER IMPORTANT TOPICS and NIKETOWN: A NOVEL. His horror-action novel WORM ON A HOOK will arrive later this year.