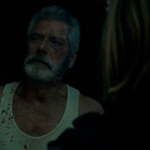 DON'T BREATHE is the new film by EVIL DEAD remake director Fede Alvarez, and the most up-my-alley new horror movie I've seen in at least a couple years. Once it really got going I found myself alternating between wincing and having a big smile that I couldn't get off my face. It's produced by Sam Raimi, and I daresay it is almost a non-supernatural spookablast™. I'm not gonna say it's as good as DRAG ME TO HELL, but that might be the last time I had this much fun watching a horror movie in a theater.
Now, keep in mind, I also liked EVIL DEAD. I had a great experience with some friends who all got a big kick out of its eviscerating-all-previous-standards-of-what-can-be-done-in-an-R-rated-movie audacity. Then almost everybody else I knew, both in life and in the comments here, seemed genuinely offended that I found any redeeming quality of any kind in that movie. It might be the most backlash I ever got for a positive review.
But I think this is different! It's dark, and it definitely Goes Too Far at one point, but I think it's more of a crowdpleaser. I think some of you guys will love it? (read the rest of this shit…)
VERN has been reviewing movies since 1999 and is the author of the books SEAGALOGY: A STUDY OF THE ASS-KICKING FILMS OF STEVEN SEAGAL, YIPPEE KI-YAY MOVIEGOER!: WRITINGS ON BRUCE WILLIS, BADASS CINEMA AND OTHER IMPORTANT TOPICS and NIKETOWN: A NOVEL. His horror-action novel WORM ON A HOOK will arrive later this year.