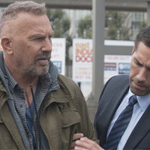 CRIMINAL is way too generic a title for this distinctive Kevin Costner action thriller, another enjoyable under-the-radar, higher-minded-than-advertised b-movie to put on the shelf next to 3 DAYS TO KILL. Costner would be the criminal of the title, a gruff, uneducated death row inmate with the strong action movie name of Jericho Stewart. He's said to have some kind of condition that leaves him no capacity for empathy, like that creepy kid in MALEVOLENCE and BEREAVEMENT, so he experiences what the internet calls "the feels" for the first time when he's the subject of an experimental surgery that implants another man's memories into his brain.
I couldn't help but think of FACE/OFF. Not that it has any of John Woo's heightened filmatism or outlandish action – the tone, grounded world and love of intelligence agency war rooms are closer to a BOURNE movie – but that's the only other movie I can think of that uses a sci-fi gimmick in a non-futuristic world and then puts an emphasis on exploring its emotional consequences.
The story starts with Bill Pope, not the cinematographer of THE MATRIX, but a CIA agent on the run in London, played by an uncredited Ryan Reynolds (BLADE TRINITY). He's in the middle of a mission gone south – something about Spanish anarchists and a hacker and a buy, and people chasing him around town trying to trap him. When he ends up dead, CIA director Quaker Wells (Gary Oldman sporting another action movie name that's not messing around) is desperate to find out what Pope was working on, because he was the only one getting close to a hacker (blackhat?) who may be able to remotely control military weapons. So Wells – actually, can I call him Quaker? – Quaker turns to this guy Dr. Franks (Tommy Lee Jones, UNDER SIEGE) who has been developing this memory-implanting theory for years. (read the rest of this shit…)
VERN has been reviewing movies since 1999 and is the author of the books SEAGALOGY: A STUDY OF THE ASS-KICKING FILMS OF STEVEN SEAGAL, YIPPEE KI-YAY MOVIEGOER!: WRITINGS ON BRUCE WILLIS, BADASS CINEMA AND OTHER IMPORTANT TOPICS and NIKETOWN: A NOVEL. His horror-action novel WORM ON A HOOK will arrive later this year.