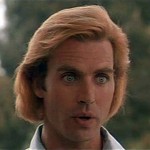 Darkman's still trying to fix that liquid skin problem, and this time he forms a partnership with one of the doctors who did the experimental surgery on him in the first place. She wants to try out a new technique to rewire his nerves so he has feeling again, and he agrees to be her guinea pig on the condition that he can borrow her top of the line DNA sequencer for his skin project. Both end up getting what they want: the equipment helps him "break the 99 minute barrier" (again – they seem to have forgotten he already did it in part 2) and she rewires his nerves to a remote control device because actually she works for a crazy steroid dealer (Jeff Fahey) who's pissed off because Darkman stole a bunch of his money and now he wants to study him to find out how he gets his super darkstrength.
DIE DARKMAN, DIE has the same director as part 2 but this time it's written by Colleary and Werb, the guys who wrote DEATH WISH V: THE FACE OF DEATH and FACE/OFF. Come to think of it these guys are obsessed with faces and masks. Colleary even wrote an episode of the new Alfred Hitchcock Presents about a woman who has plastic surgery to look like someone else and Werb was a writer on THE MASK. Weird. But the point is they are pretty good writers and went beyond the DTV call of duty on this one. (read the rest of this shit…)
VERN has been reviewing movies since 1999 and is the author of the books SEAGALOGY: A STUDY OF THE ASS-KICKING FILMS OF STEVEN SEAGAL, YIPPEE KI-YAY MOVIEGOER!: WRITINGS ON BRUCE WILLIS, BADASS CINEMA AND OTHER IMPORTANT TOPICS and NIKETOWN: A NOVEL. His horror-action novel WORM ON A HOOK will arrive later this year.