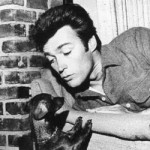 Holy shit, I think I knew this before, but Clint Eastwood is the greatest movie star of all time. How is it possible that a guy who 40 years ago starred in some of the best westerns ever, and 30 years ago starred in some of the best cop movies ever, and 15 years ago directed and starred in the (deserving) winner of the best picture Oscar (another one of the best westerns ever), and in this decade is still going strong as a unique and sometimes great director of serious movies, and yet ALSO chose to direct and star in this humble little slice of moving dramedy with a side of good old fashioned ass kicking? Answer: it is not possible. But Clint doesn't believe in impossible so he did those things anyway. Also he was mayor once. And plays piano. And sang the theme song for this one.
I think probaly most people want Clint to keep doing those Oscar bait movies. I liked MILLION DOLLAR BABY (another best picture, not even the one I referred to before) and I get why people like MYSTIC RIVER, and I thought LETTERS FROM IWO JIMA was great. But as good of a director as he is I think Clint Eastwood the movie star is an even more valuable treasure to the world, so I'm happy he's still willing to throw us one of these. The older and gruffer he gets the cooler he gets, so he should stay on camera. (read the rest of this shit…)
VERN has been reviewing movies since 1999 and is the author of the books SEAGALOGY: A STUDY OF THE ASS-KICKING FILMS OF STEVEN SEAGAL, YIPPEE KI-YAY MOVIEGOER!: WRITINGS ON BRUCE WILLIS, BADASS CINEMA AND OTHER IMPORTANT TOPICS and NIKETOWN: A NOVEL. His horror-action novel WORM ON A HOOK will arrive later this year.