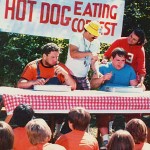 Okay, let's say it's the year 2008, you are a horror fan, and the one thing that would really hit the spot for you in the near future would be a low budget FRIDAY THE 13TH (part 1) rip-off with a unique brand of in-your-face FUCK YOU AND YOUR MOTHER New York attitude. But not SLEEPAWAY CAMP, you already saw that one. Well then November 4th is your lucky day, dickwad, because that's when original SLEEPAWAY CAMP director Robert Hiltzik returns to Sleepaway Camp with his sophomore directorial effort, RETURN TO SLEEPAWAY CAMP.
During the cheesy credits sequence (which I thought was a menu animation at first) your mind may slip away to imagine all the modern ways a new SLEEPAWAY CAMP could suck. You can easily picture the bland twentysomething soap opera actors going through the usual DTV horror motions. (read the rest of this shit…)
VERN has been reviewing movies since 1999 and is the author of the books SEAGALOGY: A STUDY OF THE ASS-KICKING FILMS OF STEVEN SEAGAL, YIPPEE KI-YAY MOVIEGOER!: WRITINGS ON BRUCE WILLIS, BADASS CINEMA AND OTHER IMPORTANT TOPICS and NIKETOWN: A NOVEL. His horror-action novel WORM ON A HOOK will arrive later this year.