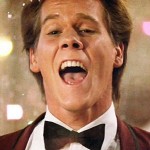 Kevin Bacon plays a regular ol' businessman guy whose son is randomly murdered in a gang initiation killing/convenience story robbery by tattoo-having, muscle car-driving, meth-dealing fantasy skinhead gangsters. When it becomes clear that the killer will only get a few years in prison he decides not to testify so that the case will be dropped and then he hunts the guy down and murders him. That is why it is called DEATH SENTENCE. The end.
Wait, no. My mistake. There's more. Even if it's obvious, even if it's corny, what makes this movie cool is the gimmick that the good guys and bad guys reflect each other. In the scene where Bacon's son is murdered, the older gangsters call the killer "my boy," like Bacon would've at his son's hockey game. They're proud of the little guy. You know what they say about gangs, even phony movie gangs like this: they're like a family. Bacon has a family member murdered, so he gets revenge. But that means the gang has their family member murdered, they must get revenge on him, so they come after him and his other son and his wife, and then he has to get revenge on them for trying to get revenge on him for getting revenge on them. (read the rest of this shit…)
VERN has been reviewing movies since 1999 and is the author of the books SEAGALOGY: A STUDY OF THE ASS-KICKING FILMS OF STEVEN SEAGAL, YIPPEE KI-YAY MOVIEGOER!: WRITINGS ON BRUCE WILLIS, BADASS CINEMA AND OTHER IMPORTANT TOPICS and NIKETOWN: A NOVEL. His horror-action novel WORM ON A HOOK will arrive later this year.