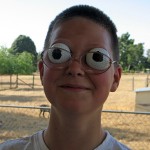 THE HILLS HAVE EYES REMAKE II
First, a review of my review of THE HILLS HAVE YES REMAKE I: not so hot. I had so much I wanted to say about that movie that I couldn't figure out what was actually worth saying. Just skip to the end where I ask, "Are you asking for a movie about mutant cannibals who steal a baby and then raise it in a safe and loving environment? Because I don't think I would like that movie as much. (I'd watch it, though.)" Somebody oughta do a remake of that review. Sorry, everybody.
Second, a review of the advertising for THE HILLS HAVE EYES REMAKE II: top-notch. The teaser trailer was one single shot of two weird mutants dragging bodies through the desert, then the title of the movie. Because what more needs to be said? A masterpiece of simplicity. I also enjoyed the TV commercial narrator who said, "Last year, critics said THE HILLS HAVE EYES went too far. Now, get ready to go even further…" I am not a fan of advertising in general, so I gotta give credit when credit is due. You did it, fellas. (read the rest of this shit…)
VERN has been reviewing movies since 1999 and is the author of the books SEAGALOGY: A STUDY OF THE ASS-KICKING FILMS OF STEVEN SEAGAL, YIPPEE KI-YAY MOVIEGOER!: WRITINGS ON BRUCE WILLIS, BADASS CINEMA AND OTHER IMPORTANT TOPICS and NIKETOWN: A NOVEL. His horror-action novel WORM ON A HOOK will arrive later this year.