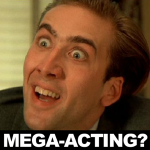 Here's a great idea for a movie: a comedy about gun running. A movie that asks what kind of a soul-less, inhuman bastard gets rich supplying weapons to warlords and "freedom fighters" they damn well know are gonna use them to massacre innocent people. A movie that is not shy about pointing out the US government's participation in this horrible industry. But remember I said a comedy, not some depressing documentary or self righteous oscar bait picture. A dark satire with serious bite, so it gets to you, but you don't feel like you're drinking castor oil. It's more like Flinstones vitamins.
Great idea, but not a great movie. And maybe I'm losing my touch, but like THE BROTHERS GRIMM, this is one where I couldn't always put my finger on what exactly wasn't working. It's much more involving than BROTHERS GRIMM and doesn't feel as muddled or sloppy. But it was another one that didn't quite connect with me. It seemed like it should work, but it didn't. (read the rest of this shit…)
VERN has been reviewing movies since 1999 and is the author of the books SEAGALOGY: A STUDY OF THE ASS-KICKING FILMS OF STEVEN SEAGAL, YIPPEE KI-YAY MOVIEGOER!: WRITINGS ON BRUCE WILLIS, BADASS CINEMA AND OTHER IMPORTANT TOPICS and NIKETOWN: A NOVEL. His horror-action novel WORM ON A HOOK will arrive later this year.