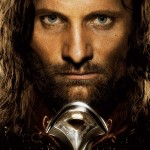 SPOILER ALERT !!
Ahoy, squirts! Quint here with our own Vern who tells ya' straight about David Cronenberg's A HISTORY OF VIOLENCE, a film I was scheduled to see last night, but I ended up sneaking into a test screening for a much anticipated horror flick instead. I figured I can see HISTORY OF VIOLENCE much sooner than I'd see this other film, so I ditched out of the screening. I'm dying to see it, though!
Now Vern's review doesn't go into any deep spoilers, but he talks about a little bit of stuff not in the trailer, so I went ahead and smacked a spoiler warning for the purists out there. As always, Vern did a bang-up job and wrote a piece that had me laughing along. Enjoy!
Harry and friends,
First of all Moriarty, to finish up that debate we were having over in your talkback, porn is not boring. At least not if you're jerkin off to it. And if you're not jerkin off to it you're not giving the picture the respect it deserves. That's like doing a crossword puzzle during a subtitled movie and then saying the movie didn't make any sense. I know Alberto Gonzales recently declared a "war on porn" one of the administration's highest priorities, but don't write off the merits of hardcore porn without giving it a fair chance. Let's show some class here, bud. That's first of all. Second of all, I got a review of David (JASON X) Cronenberg's excellent new picture A HISTORY OF VIOLENCE starring Viggo Mortensen. (read the rest of this shit…)
VERN has been reviewing movies since 1999 and is the author of the books SEAGALOGY: A STUDY OF THE ASS-KICKING FILMS OF STEVEN SEAGAL, YIPPEE KI-YAY MOVIEGOER!: WRITINGS ON BRUCE WILLIS, BADASS CINEMA AND OTHER IMPORTANT TOPICS and NIKETOWN: A NOVEL. His horror-action novel WORM ON A HOOK will arrive later this year.