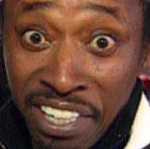 Harry here with Vern's uncovering of the greatest America has to offer. This time it is BLAST starring… ah hell, I'll just hand it over to Vern – he's who you come to AICN desperate for something new to read…
Boys –
You know how it is with me, every time I get a screener for some shitty straight to video movie I get this idea somewhere in my brain… what if this is it? What if this is THE ONE? The one I've been looking for all these years? Well today we're here to discuss BLAST, which is not the one. But it is one of those rare surprisingly competent ones. Destined for a Not As Bad As You Would Think award from the Direct to Video Academy of Well Who Are We Kidding There Is No Art Or Science In These Things.
Basically BLAST is DIE HARD on an oil rig. Or maybe UNDER SIEGE on an oil rig, but not ON DEADLY GROUND. Anyway the important thing is instead of Bruce or Seagal, we got wisecrackin Eddie Griffin. You know, from MY BABY'S DADDY. Now look, I wouldn't watch 99% of the shit this guy has made. But I do think he can be funny. I'm more of a POOTIE TANG man, but I liked him in UNDERCOVER BROTHER. And his standup movie/family documentary DYSFUNKTIONAL FAMILY was funny. Here, he has a couple good smartass lines, but mostly plays the action hero. (read the rest of this shit…)
VERN has been reviewing movies since 1999 and is the author of the books SEAGALOGY: A STUDY OF THE ASS-KICKING FILMS OF STEVEN SEAGAL, YIPPEE KI-YAY MOVIEGOER!: WRITINGS ON BRUCE WILLIS, BADASS CINEMA AND OTHER IMPORTANT TOPICS and NIKETOWN: A NOVEL. His horror-action novel WORM ON A HOOK will arrive later this year.