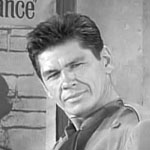 Pretty much every day, somebody comes up to me and asks, "Vern, what in your opinion is the greatest badass ensemble cast of all time?" They expect me to go for a big cast like THE GREAT ESCAPE or THE DIRTY DOZEN. But I throw em a curve ball with the best possible answer: HELL IN THE PACIFIC. There are exactly two actors in the whole movie, and they're Lee Marvin and Toshiro Mifune. That cannot be topped. The technology just doesn't exist.
Here's a cast that comes pretty close though: Charles Bronson, Toshiro Mifune and Alain Delon. I mean, that's pretty fuckin good, right? You could argue whether or not Bronson + Delon > Marvin. But there's other people in this movie, not just those three, and that lessens the impact. The minimalism of HELL IN THE PACIFIC is part of what makes it so great. (read the rest of this shit…)
VERN has been reviewing movies since 1999 and is the author of the books SEAGALOGY: A STUDY OF THE ASS-KICKING FILMS OF STEVEN SEAGAL, YIPPEE KI-YAY MOVIEGOER!: WRITINGS ON BRUCE WILLIS, BADASS CINEMA AND OTHER IMPORTANT TOPICS and NIKETOWN: A NOVEL. His horror-action novel WORM ON A HOOK will arrive later this year.