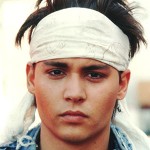 FINDING NEVERLAND is one of those movies that feels kind of like a remedial imagination class they force you to take on Saturdays because you fucked up. You may not know this, it tells you, but it turns out imagination is important and magical and all that kind of crap. Johnny Depp plays J.M. Barrie, the writer of Peter Pan. The movie starts the same as ED WOOD, he's the writer of some flop play that the audience already hates literally about 2 seconds after it starts. It's the first line of dialogue and a dude is already asleep.
So J.M. needs to imagination up his life somehow to inspire him to write Peter Pan, and luckily he runs into a widow (Kate Winslet) and her spunky kids (a bunch of kids) while he's walking his novelty oversized dog. Next thing you know he's hanging out with the kids, dressing up in silly costumes and imagining stuff with them. They're still pretty bummed about their dad dying so he has to teach them to have a childlike sense of wonder, etc. (read the rest of this shit…)
VERN has been reviewing movies since 1999 and is the author of the books SEAGALOGY: A STUDY OF THE ASS-KICKING FILMS OF STEVEN SEAGAL, YIPPEE KI-YAY MOVIEGOER!: WRITINGS ON BRUCE WILLIS, BADASS CINEMA AND OTHER IMPORTANT TOPICS and NIKETOWN: A NOVEL. His horror-action novel WORM ON A HOOK will arrive later this year.