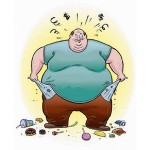 What this is is a no-budget first timer trying to prove himself 16mm type movie. A film student named Jim Van Bebber stars in it and directed it, using his film school buddies as actors, spending many years and sweating alot of blood to make his movie and prove himself. He finally finished it in 1988, but it feels more like early '80s or at times even late '70s. I think he was definitely trying to make a movie like EVIL DEAD or TEXAS CHAIN SAW MASSACRE or something but one thing that makes it unique, he made an action movie instead of a horror movie. But he still put in a whole lot of bleeding and stabbing and screaming and dying, etc.
Now, there are alot of reasons not to like this movie. There is alot of bad acting and dialogue, awkward and amateurish shots, self conscious attempts at shocking the audience. Worse than that, it is a movie about gangs with names like The Spyders and The Ravens. And the characters have names like Goose and Bonecrusher (actually I thought they were saying Bumcrusher, but I'll take IMDB's word for it). We're talking about those movie type of gangs where they are a bunch of long haired heavy metal dudes who don't look tough at all but they figure if they wear a headband and a driving glove, and supposedly do alot of drugs, then that will make them hardcore. There are lots of bad getting high scenes and drinking beer scenes and evil cackling and threatening gum chewing. And every once in a while they remember that they want it to be THE WARRIORS or CLOCKWORK ORANGE so suddenly the guys will be wearing Halloween masks or codpieces or something. And there is always graffiti in the background that says things like "THE CITY IS SHIT." (social commentary) (read the rest of this shit…)
VERN has been reviewing movies since 1999 and is the author of the books SEAGALOGY: A STUDY OF THE ASS-KICKING FILMS OF STEVEN SEAGAL, YIPPEE KI-YAY MOVIEGOER!: WRITINGS ON BRUCE WILLIS, BADASS CINEMA AND OTHER IMPORTANT TOPICS and NIKETOWN: A NOVEL. His horror-action novel WORM ON A HOOK will arrive later this year.