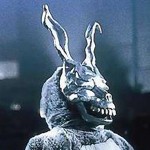 I gotta admit I was surprised by this picture. It is about a young man (named Donnie Darko [that is why the movie is called Donnie Darko, it is the dude's name]) to whom all the weird shit happens. Like for example a demonic rabbit lures him out of bed to a golf course, whispering mysterious type business to him in a spooky voice. In the morning he comes home and, you know, a plane engine has fallen onto his bedroom. Only one thing is, nobody knows what happened to the plane the engine fell off of. And it would be bad enough to have a plane engine fall into your room in the first place, then you gotta throw in all this mysterious bermuda triangle type business too. I mean he has a hard enough time just with school work now he has to deal with this shit.
This movie didn't get much of a release and I don't know, maybe it's because it's coming out in a time when Donnie Darko's life doesn't seem all that different from ours. Engines do fall out of the sky. I mean they have ax fights on planes now. They have shoe bombs and shit. They're gonna have baboon attacks pretty soon, the way things are going in my opinion. Pilots gored by elephants after that. I mean why do they allow elephants in the cargo hold anyway is what they're gonna say. We shoulda seen that loophole. (read the rest of this shit…)
VERN has been reviewing movies since 1999 and is the author of the books SEAGALOGY: A STUDY OF THE ASS-KICKING FILMS OF STEVEN SEAGAL, YIPPEE KI-YAY MOVIEGOER!: WRITINGS ON BRUCE WILLIS, BADASS CINEMA AND OTHER IMPORTANT TOPICS and NIKETOWN: A NOVEL. His horror-action novel WORM ON A HOOK will arrive later this year.