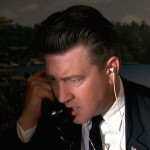 Hey, everyone. "Moriarty" here with some Rumblings From The Lab.
Which version of this movie did he see? He mentions the lesbian sex that dominates the third act, as other reviewers have, but he doesn't go on and on about how hot it is, as other reviewers have, so does that mean Vern is just a classy guy, or is it possible he saw the original TV pilot?
Either way, AICN's favorite outlaw has come up with something worth your time, a peek at what David Lynch has been up to…
VERN SAW MULLHOLLAND DRIVE
(includes the spoilers)
First off let me say I feel like a grade-a asshole sitting here Writing a movie review when so many innocent people died here this month and so many more will be dying in other countries soon. But I guess somehow you gotta get back to your life at some point and I'm afraid reviewing movies is about the best I can muster for this world. I speak on behalf of myself only but, let's face it, even the best film Writers are basically just wasting your time. or at least that's what the talbackers say about me, and I'm one of the best film Writers in my opinion, so you do the math. (read the rest of this shit…)
VERN has been reviewing movies since 1999 and is the author of the books SEAGALOGY: A STUDY OF THE ASS-KICKING FILMS OF STEVEN SEAGAL, YIPPEE KI-YAY MOVIEGOER!: WRITINGS ON BRUCE WILLIS, BADASS CINEMA AND OTHER IMPORTANT TOPICS and NIKETOWN: A NOVEL. His horror-action novel WORM ON A HOOK will arrive later this year.