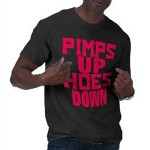 Ever since I first saw American Pimp I have been meaning to see this competing "pimpumentary" which came out the same year and was covered in the same articles. Someone even told me it was way better because the pimps are crazier and flashier. But now that I've finally seen it I gotta say, I disagree. This is the poor man's American Pimp. The made-for-tv American Pimp. This is the Carnosaur to American Pimp's Jurassic Park. If American Pimp is The Beatles, Pimps Up is a Monkees cover band. When they're older and less inspired, and thinking of breaking up.
The filmatics in this one simply is not as good. American Pimp was finely sculpted in such a way as to explain the pimp culture, how they are viewed in society, what is important to them, how their job works, etc. Pimps Up doesn't explain shit. It's just a bunch of interviews, some of them very entertaining, but thrown together pretty much at random. Since I saw it on dvd it is the director's cut, which I think just means they added in about 30 minutes of extra ass shaking. Alot of it takes place at strip clubs or at pimp conventions where they just have strippers shaking their asses alot. Which, sorry fellas, but it gets old. There are other documentaries which cover that territory better, many of them from companies like Vivid or Hustler. (read the rest of this shit…)
VERN has been reviewing movies since 1999 and is the author of the books SEAGALOGY: A STUDY OF THE ASS-KICKING FILMS OF STEVEN SEAGAL, YIPPEE KI-YAY MOVIEGOER!: WRITINGS ON BRUCE WILLIS, BADASS CINEMA AND OTHER IMPORTANT TOPICS and NIKETOWN: A NOVEL. His horror-action novel WORM ON A HOOK will arrive later this year.