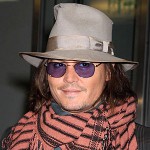 This week what I saw was a piece by the name of Sleepy Hollow. This is what you call an old fashioned horror type movie based on that old story of the decapitated horseman. What he does is he goes around chopping off motherfuckers heads with an ax goin "Where's my head? Where's my head motherfucker give it back!" Or at least, that is what he's communicating through the medium of head chopping.
Now first of all, if any of you like me saw halloween 20 last halloween, your probably thinking the same thing I am – could it be… michael meyers is the headless horseman? Because remember michael also got his head chopped off with an ax. And yeah nobody ever taught him how to ride a horse but then nobody taught him how to drive a car either but he was doing very well last night. Anyway I don't want to give anything away but its not him unfortunately in sleepy hollow because it takes place in a different time period. SOrry.
Well obviously what you gotta do in a headless horseman type situation like this, even if its not michael meyers, you gotta figure out what the hell is up with this fucker and catch him. Let me tell you i'm glad this dude doesn't get locked up in the end, i would feel bad for the inmates that have to deal with a dude with no head, that's just creepy.
So anyway the dude who goes after him is kind of a sissy type fella by the name of Ichabod Crane. Apparently he's some sort of cop although without a uniform or a badge I'm just going to let it slide and say, okay, this dude is all right with me. Even if he's wearing some kind of lady's scarf which I guess was considered less taboo at the time this takes place. (read the rest of this shit…)
VERN has been reviewing movies since 1999 and is the author of the books SEAGALOGY: A STUDY OF THE ASS-KICKING FILMS OF STEVEN SEAGAL, YIPPEE KI-YAY MOVIEGOER!: WRITINGS ON BRUCE WILLIS, BADASS CINEMA AND OTHER IMPORTANT TOPICS and NIKETOWN: A NOVEL. His horror-action novel WORM ON A HOOK will arrive later this year.